Highlights

Røkenes Gård - a hidden treasure in the north where you can delight yourself with a splendid dinner…

Umami was awarded Northern Norway's best restaurant in 2017 by the White Guide Nordic. Here you can…

De 4 Roser is regarded among Norway's best restaurants focusing on delicious culinary experiences.
Food & Drink in Harstad
The fragrance of delicious seafood is present in the streets of Harstad while strolling through the urban center. The sight of people enjoying themselves in one of the many restaurants and cafes brings an urge to partake in the culinary atmosphere in Harstad. Sit down and be met with heartwarming hospitality, excellent service and a sense of home. Treat yourself to some of the best dining that Northern Norway has to offer in this beauty of a city.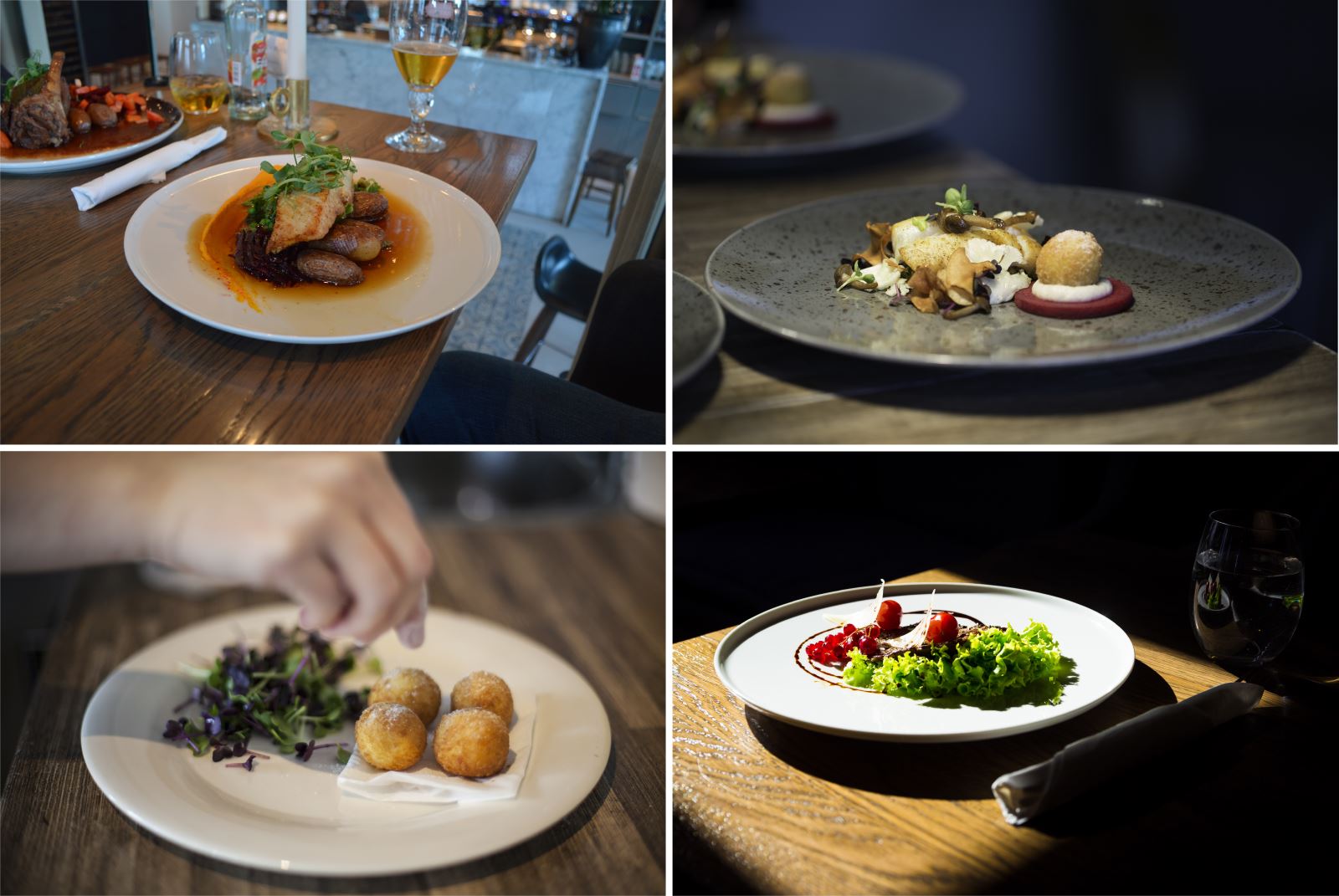 Gourmet city Harstad and its' local food
The sensation of great food experiences by local produce has become an important aspect for many tourists and weighs as heavily today as unique attractions and unforgettable activities do. Many regions throughout the world have evolved their culinary identity to a point where all the senses are cared for in such a manner. Harstad has become such a flourishing region – a destination of delicious delicacies that will leave you in a culinary statis and yearning for more.
Harstad however goes beyond the concept that is trending in the world right now. With access to Norway's best and freshest seafood within sight, Harstad can offer you sensational dishes in one of the three gourmet restaurants in the area. It is not only the incredible varied selection of seafood coming from the archipelago that impresses visitors – it is also the artistry, care and love that goes into every single meal served. Deriving inspiration from centuries of local traditions and Northern Norwegian hospitality, Harstad is the gourmet city of the north.

The 3 gourmet restaurants in Harstad
Harstad's culinary identity is closely aligned with the Northern Norwegian landscape – fresh, adventurous and beautiful. Harstad is able to match the biggiest cities in Norway when it comes to the quality of the food and service, but outdoes them with their sincere hospitality and incredible scenery. Food experts and critics from around the globe have visited Harstad and commented warmly on how well this region combined mediterranean spires with local produce. Despite being a small coastal city in Northern Norway, Harstad has three incredibly succesful and unique gourmet restaurants – Røkenes Gård, Umami and De 4 Roser. These gourmet restaurants may all have their own unique profile, but it is their cooperation and their love for the profession that has made Harstad the culinary heaven it is today.
Røkenes Gård is a historical venue that has been owned and run by the Kulseng family for ten generations. This hidden beauty of a farm is the oldest licensed premises in Northern Norway and is balancing the historical heritage of the farm with modern dining perfectly. Having the perfect view out onto the majestic archipelago isn't a thing to scoff at either.
Umami's heartwarming and genuine atmosphere complements the delicious and savory taste of their artistry, hence the name Umami. With the chefs of Umami pouring their heart and soul in every dish they present, it is no wonder they were ranked as the best restaurant in Northern Norway by the White Guide Nordic in 2017.
De 4 Roser focuses on everyday gourmet combined with the exciting use of fresh local produce to conjure forth the best dining experiences. With service, food and wine as their focus, you'll be baffled by the dedication in their profession. This made sure that they deserved a place in the White Guide Nordic of 2015.
Dinner with a Northern Norwegian view
Urban Harstad with its' cosy shopping streets and colorful atmosphere is a gorgeous place to enjoy the best food and drinks that Northern Norway has to offer. But wouldn't it be even better if you could have all these delicacies out on a boat in the archipelago, atop the mountain peaks or on the white beaches along the shore? We recommend dinner with a view in Harstad's beautiful landscape.
For the ultimate culinary treat, we recommend to tailor your own experience to your own needs! Want to eat delicious fish caught in the archipelago while on a whale safari? What about dining on one of the many islands in the evening when the midnight sun roars high in the night sky – B&B Touring can assist with that! Having the meal of a lifetime on a sandy white beach, atop a mountain peak or at Nupen «the most romantic place in Norway» - Umami can help make that dream come true!
Come to Harstad - the gourmet city in Northern Norway, and partake in the culinary paradise that is seen, tasted and truly felt.