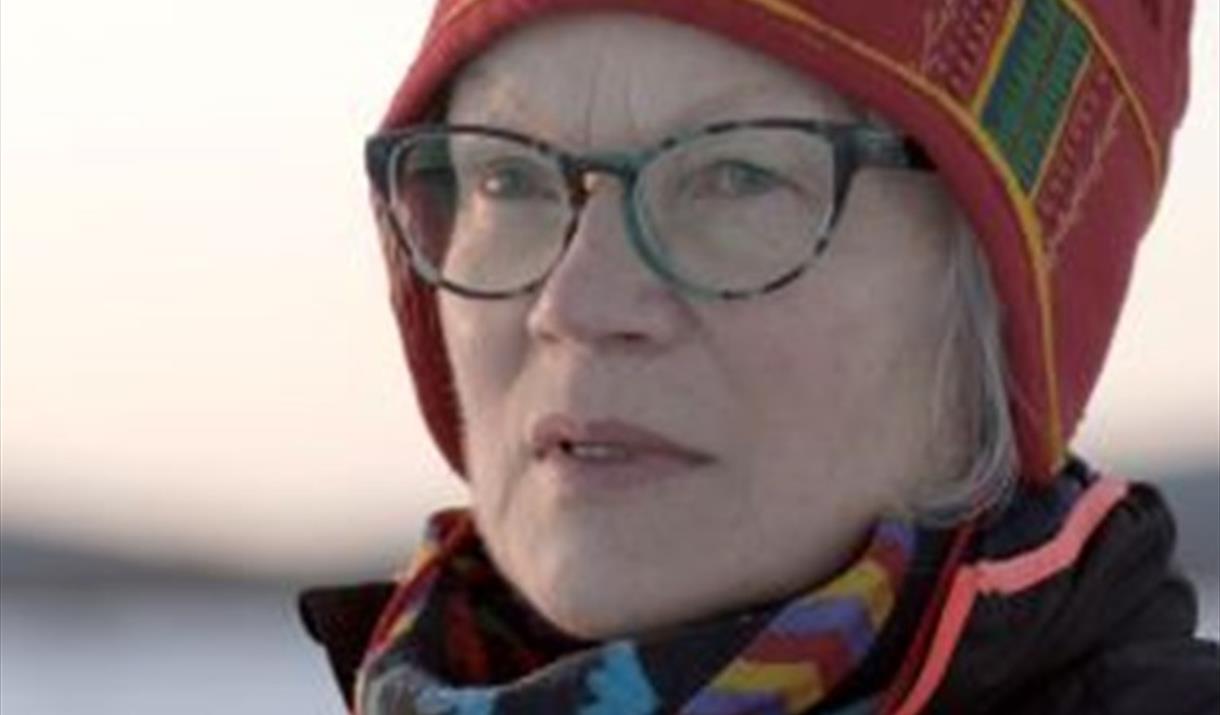 About
Film: Historjá - Embroidery for Sápmi (Sweden 2022). A dazzlingly beautiful and poignant documentary about the Sami artist Britta Marakatt-Labba. Reindeer soup from Vilgesvárre is included in the ticket price. Introduction by Helene Hokland, cinema manager at Harstad Kino.
"The fight began when I was born, because in the Sami culture we have always been forced to fight. Now we have a new battle to wage, against climate change. If we don't win it, it will be our last" - Britta Marakatt-Labba
HISTORJÁ is a documentary about the work and life story of the artist Britta Marakatt-Labba. Through a mixture of beautiful nature images and archival material, this film also gives an insight into Sami history and how climate change threatens the basis of life for the Sami culture.
The film takes its point of departure in Marakatt-Labba's main work "Historjá", a 24 meter long embroidery depicting motifs from Sami history. The embroidery hangs at the University of Tromsø and was exhibited at Documenta 14 in Kassel, one of the art world's most important viewing platforms. Last year she was current as one of those selected for the Art Biennale in Venice.
With small stitches, Marakatt-Labba evokes the history and mythology of the Sami people, and also tells about colonialism, state-supported racism and political strife. After decades on the barricades for her people's rights, with art as a weapon, she is now facing her biggest fight, the fight against climate change. Marakatt-Labba's family runs reindeer herding and the film depicts how climate change affects the family's work. Will it be possible for her son to carry on the family tradition?
HISTORJÁ is a multi-layered film. It weaves together fantastically beautiful nature photography from Sápmi with exploration Britta Marakatt-Labba's art and archive photos from, among other things, the Alta action in the 80s. The film is poetic, but also a call to battle. Britta Marakatt-Labba's vitality is infectious and a great inspiration.
PRESS ABOUT THE FILM:
"A shocking film about the oppression of an indigenous people" - Vårt Land
"Visually striking documentary" - Morgenbladet
"A strong portrait of a rebellious Sami artist" - Göteborgs-posten
"A heartbreaking, beautiful film" - Dagens Nyheter
"An engaging and credibly narrated documentary" - Aftonbladet
Length: 89 min
Age limit: Permitted for all / For everyone
Language: North Sami and Swedish / North Sami, Swedish
Subtitles/subtitles: English
Direction and screenplay/director: Thomas Jackson
About KinOmatic:
KinOmatic is a unique and popular movie and food concept. You are invited to thought-provoking and moving experiences. KinOmatics shows recognized quality films, provides film specialist refills and serves delicious food. The food is from the same country as the film, and it is served in the same hall where the film is shown. There is also a bar in the hall.
Welcome to pleasant and adventurous evenings!
Tripadvisor
Map & Directions