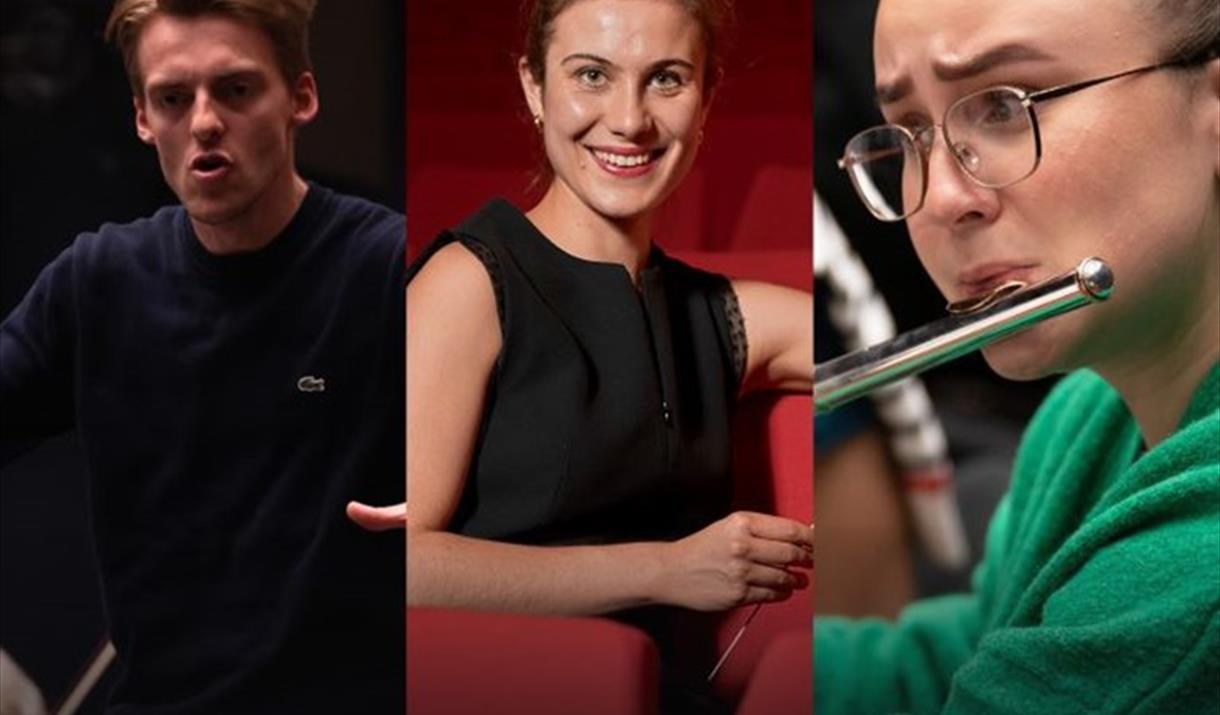 About
Throughout the ages, music has been shown to have a power of its own. It affects us, touches us, moves us and shapes us. It can provoke a fight, calm us down, gather and irritate, and it is with us all our lives. Tonight, three young talents from the Norwegian Academy of Music are on stage together with the Army's music corps. For them, music is life itself and the path they have chosen as their future profession.
Every year, the Army's music corps and the Norwegian Academy of Music collaborate on a masterclass for conducting students at bachelor's and master's level. The students get to test their abilities against professional musicians and the choir gets to know the conductors of tomorrow.
Two of these, Nina Haug and Kristoffer Wøien, share the podium as the evening's conductors.
New this year is that we also have a soloist. New this year is that we have with us the student who won NMH's soloist competition just before Christmas. Maria Lille Haugen is a soloist in Ignaz's flute concerto.
Kristoffer Wøien is a conductor and trumpeter. He is studying a master's in orchestral conducting at NMH with professor Ole Kristian Ruud and has been accepted into the practice program Dirigentforum. He has attended a number of masterclasses with renowned teachers such as Johannes Schlaefli, Nicholas Pasquet and Jorma Panula. In addition, he has conducted several of the Norwegian professional ensembles, such as Stavanger Symphony Orchestra, Trondheim Symphony Orchestra and several of the defense corps. As a trumpeter, Kristoffer has played a lot freelance, including several projects with the Arctic Philharmonic.
Nina Haug was born in Switzerland where she grew up in a musical family and started singing and playing the piano at a young age. Later there were studies in classical piano in Würtsburg, New York and Helsinki. Nina is a versatile pianist with experience as a soloist and chamber musician, who leads in theater and musicals and collaborates with singers and choirs.
Recently she was a soloist in Musiikkitalo Helsinki and Tonhalle Zürich where she performed Concertos by Tchaikovsky and Berg. Since September 2022, she has been based in Oslo, where she is taking a master's degree in conducting at the Norwegian Academy of Music under the direction of Ole Kristian Ruud.
Marie Lille Haugen is a 21-year-old flautist from Sandefjord. She currently studies at the Norwegian Academy of Music in Oslo with Trond Magne Brekka and Tom Ottar Andreassen. This semester she is on exchange to the Conservatoire National Superieur de Musique et Danse de Paris in France. Marie has participated in a number of competitions nationally, and won in her classes in both the national flute competition and UMM. Alongside her studies, Marie also does freelance assignments, and has worked as a substitute in, among others, KORK, the Arctic Philharmonic, the Royal Norwegian Navy's music corps and the Norwegian Armed Forces' staff music corps. v
PROGRAM
The giant sage castle - Harald Sæverud
Runners Blues – Åse Hedstrøm
Prelude to the 49th Parallel - Ralph Vaughan Williams
Flute Concert – Jacques Ibert
soloist: Maria Lille Haugen
BREAK
Symphony No. 9 - Dmitri Shostakovich
Tripadvisor
Map & Directions